Back to Blogs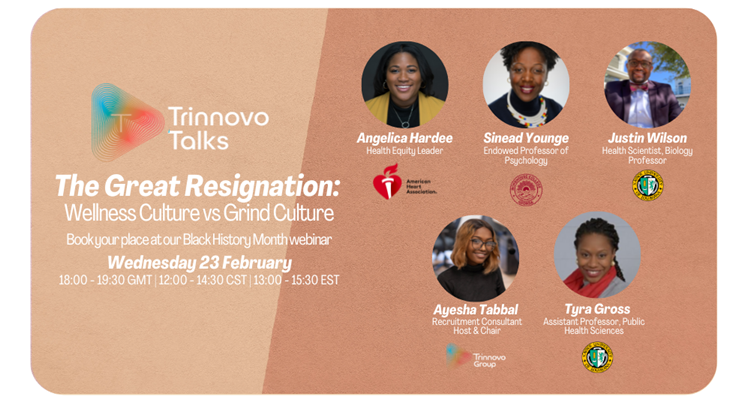 Webinar #4 Trinnovo Talks - The Great Resignation: Wellness Culture vs Grind Culture
​Our Trinnovo Talks community came together for our first networking initiative of 2022, coinciding with Black History Month US, 'The Great Resignation: Wellness Culture vs Grind Culture' hosted by the inspirational Ayesha Tabbal.
As the racial justice movement created a wave of change, it highlighted where progression needed to be made. The economic trend 'The Great Resignation' began in the US, as large sums of employees began resigning at a large scale, with a historical 4.5m leaving their jobs in November 2021 alone. Concerns about basic financial wellness, mental health, social, physical and career wellbeing all came to the forefront of workplace wellness.
During the discussion we were joined by four industry experts:
We explored the economic trend of 'The Great Resignation' and how people are starting to expect more from their places of work. Since 2020 we have seen many people leaving roles that they had been in for years to start their own businesses or change career paths completely and find financial wellness, mental health, social and physical wellness. Our panel reiterated how for African Americans, this highlighted and exacerbated against a backdrop of discrimination and inequality.
We would like to extend our thanks once more to our fabulous panel for their insights, our attendees for joining us for the forward-thinking discussion as well as our wonderful host, Ayesha.
Missed the webinar? We've got you covered – check out the webinar recording here.