Back to Blogs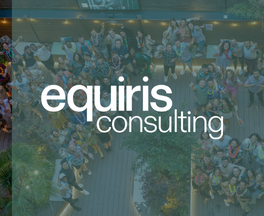 Trinnovo Group Launches Fourth Brand, Equiris Consulting
​Trinnovo Group launches fourth brand, Equiris Consulting, a talent consultancy and solutions provider with a diversity, equity, and inclusion methodology.
April 2022
​
Trinnovo Group is delighted to announce the launch of its fourth brand, Equiris Consulting. Equiris Consulting is a talent consultancy and solutions provider offering diversity, equity and inclusion focused solutions across the full talent lifecycle including attraction, assessment, onboarding, learning and development and retention. Our solutions enable high-growth businesses to attract, retain and develop amazing people and high-performing teams that are representative of the society that we live in by ensuring that the world of work is a more inclusive and equitable place for everyone.
​
We understand that every business is unique, so focus on building strong relationships that enable us to truly understand our client's business strategy. This enables us to embed bespoke talent solutions that help our clients to achieve sustainable growth while ensuring that diversity, equity, and inclusion are at the forefront of their strategic agenda. We work closely with our sister brands, specialist recruitment companies Trust in Soda, Broadgate and BioTalent, to offer a full wrap-around DEI focused talent solution.
​
As part of Trinnovo Group we are purpose-led and we put the success of people and purpose before profit. As a group we have several unique not-for-profit communities, including Ex-military Careers.com, Women in DevOps, Diversity within Cyber, Race in Science and Ethnicity Talks, that we have grown organically. Through these communities we drive social innovation, change and equity in the workplace with our clients, candidates, partners, and communities.
​
Cara Myers, Talent Advisory Director at Equiris Consulting comments, "I am so incredibly excited to be launching Equiris Consulting. Across our social enterprise and unique platforms, we have inspired a lot of change within the workplace and worked hard to make it a place that is more inclusive for everyone. We recognised, however, that we have an opportunity to do more, and to not only inspire change but to also work with our clients and partners to offer very targeted DEI focused talent solutions that enable high-growth companies to scale in a way that is diverse, equitable and inclusive. We are very excited to continue working with individuals or businesses who are looking for support with their people, culture, or talent agenda across the full talent cycle from talent attraction to employee retention and I'd welcome the chance to speak with anyone who'd like to learn more and can be reached at cara.myers@equirisconsulting.com"
​
Commenting on the launch, James Cox, Trinnovo Group CEO commented "The Board and I are hugely excited to launch Equiris Consulting. We created Equiris Consulting because we want to provide solutions that enable high-growth, tech-enabled businesses to grow in diverse and sustainable way. We are on a mission to build diversity, create inclusion, and encourage workplace innovation, and we are excited to see the impact that will be delivered through our new talent consultancy and solutions provider."
​
For further information about Trinnovo Group, visit www.trinnovogroup.com
​
Press enquiries:
Helena Sullivan, Group Marketing Director, helena@trinnovo.com
​