Back to Blogs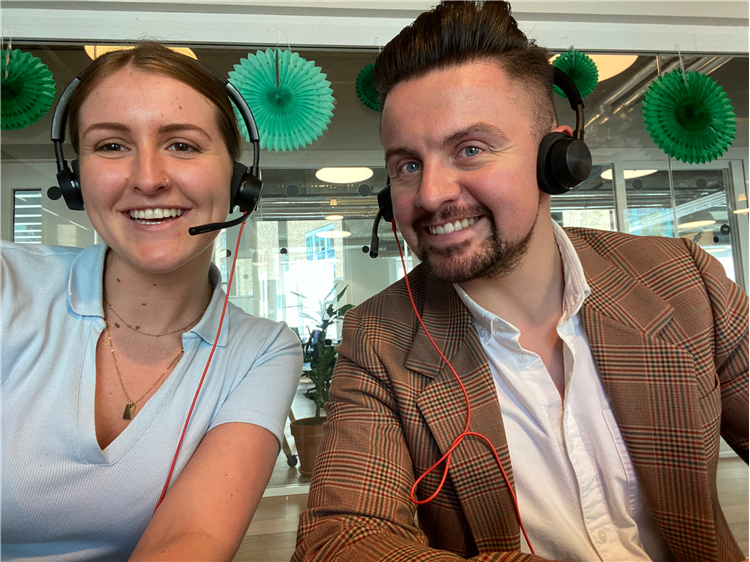 Our Mental Health Awareness Week Workshop
​This week our Mental Health Employee Engagement Group (EEG) came together to celebrate mental health awareness week in an interactive workshop full of activities to bring our people together and raise money for our mental health charity Inspire. This years' theme focuses on opening the conversation on the impact of loneliness, breaking the stigma and tackling loneliness together.
Our team organised a wellness-themed day filled with:
Chair Yoga led by Lucy Neal

Wellness Secret Santa gift exchange across our Dublin office

Panel discussion 'overcoming loneliness and staying connected' led by our very own Trinnovo Group Ant and Dec - Declan and Lauren

An internal Dublin workshop brainstorming ideas on potential policies or perks to launch at Trinnovo to further support our teams' mental health and wellbeing

Bingo with a variety of wellness prizes led by Brie!
The workshop aimed to highlight the importance of normalising conversations regarding mental health and loneliness. At Trinnovo Group, we have a particularly people-centric culture, offering an open discussion to share ideas and innovate the way we work. We explored loneliness as a standalone issue, as well as it's impact on wellbeing and in turn, the consequences on mental health.
Key takeaways from the discussion:
Loneliness is subjective
Loneliness differs from person to person and can range from a change in someone's environment to moving to a new city. Oftentimes people experience loneliness despite being surrounded by others, highlighting the varying types of loneliness.
The implications of loneliness
While loneliness is not in itself a mental illness, it can impact your wellbeing and therefore have an impact on your mental health. Like many mental health issues, loneliness can lead to physical symptoms such as feeling sick or tired.
The 6 steps for combatting loneliness:
making the most of your free time – is there something you can change, is there something healthy, are you making the most of your free time?

what are the things you are wanting to do

take things slowly – try to not get overwhelmed and do what you feel comfortable

be nice to yourself – self stigma

not forcing yourself into something you're not comfortable with

seeking support
It is important to remember that if you are lonely, you are not alone. Many of us, particularly through the pandemic have felt this way. It is imperative to raise awareness on supporting people and creating that community within the workplace, since we spend so much of our lives at work.
What Trinnovo can do:
At Trinnovo Group we strive to ensure employee wellbeing is well supported through our employee perks and benefits. Including but not limited to the following:
Employee Assistance Programme (EAP)
We offer a telephone EAP that aims to help employees in dealing with personal issues that might adversely impact their work performance, health, and wellbeing. It provides free, confidential support for anyone, offers 24/7 access, 365 days a year to a telephone counselling service, legal advisors, bereavement assistance, and medical information.
Mental health first aiders
Mental Health First aiders are a point of contact for anyone who is experiencing a mental health issue or emotional distress. Support can range from having an initial confidential conversation to supporting you to get appropriate help. As well as in a crisis, Mental Health First Aiders are valuable in providing early intervention help for someone who may be developing a mental health issue.
Wellness Action Plans
At any time you can ask your manager to complete a review of your wellness action plan. Wellness Actions Plans are an easy, practical way of helping you to support your own mental health at work. Everyone can complete a Wellness Action Plan, you don't need to have a mental health problem in order to feel the benefits. It just means that you already have practical steps in place to ensure you are supported when you aren't feeling great.
Joining our Mental Health Employee Engagement Group
Our non-hierarchical employee-led DIT supports 7 different pillars, with one employee engagement group (EEG) supporting mental health. Anyone from a new starter to director can join and suggest and lead ideas and projects to educate and impact to people, communities and charity partners.
Find out more about what we do at Trinnovo to ensure our employee wellbeing is at the forefront of our culture on our website: www.trinnovogroup.com