Back to Blogs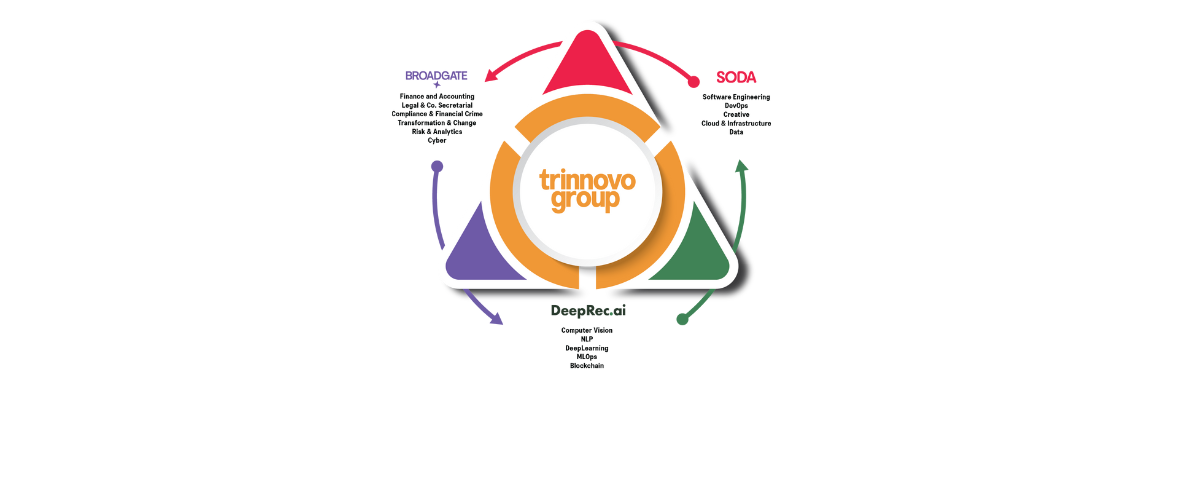 A New Era for Trinnovo Group
It's been quite a year at Trinnovo Group | B Corp™, a year of innovation and alignment. We launched our new recruitment brand (DeepRec.ai), obtained B Corp status, built our fourth community (Pride in Tech), introduced a revamped academy scheme, and adopted new automation and AI systems into the group, enabling us to make great strides in extending our reach into underserved areas of the working world.
To reinforce this trajectory and better align our output with our key markets, we have demerged BioTalent from Trinnovo Group. Whilst BioTalent has been a key part of Trinnovo Group's success over the years, the demerger will undoubtedly create exciting new opportunities for both entities. Facing forward, this demerger will allow Trinnovo Group to realign its resources and strategies in a way that creates space for a more cohesive impact across our core areas of focus: Technology, Security, Enablement, and Innovation. It's a bold step towards a more streamlined and impactful future.
As we grew and reviewed our 5-year plan, it became clear that BioTalent's specialisms were not conducive to the seamless cross-brand collaboration we were aiming to achieve. As a multi-brand and multi-office group with locations across London, Dublin, Boston, and Zug, we aim to leverage our brand synergy to make Trinnovo Group greater than the sum of its parts.
Trinnovo Group's focus is not shifting away from the life sciences, it's evolving to align with the full spectrum of our organisation's specialisms. Our brands are positioned to offer a wealth of support for clients in this highly impactful industry, particularly given its growing demand for talent across Robotics, AI, Blockchain, Computer Vision, Software Engineering, Natural Language Processing (NLP), and many corresponding avenues of DeepTech – all of which are areas of expertise for DeepRec.ai. This refocus will help us to enrich the depth of our cross-functional service, shifting priority towards technology and innovation. Broadgate will continue to provide specialised recruitment services to life sciences organisations in the areas of protection and enablement (encompassing dedicated finance and legal teams). Trust In SODA will support life sciences innovators through their full spectrum of digital tech staffing expertise.
The BioTalent demerger will enable us to broaden Trinnovo Group's reach into new areas that stand to benefit from our cross-section of services. Many of the decisions we've made this year have been informed by our recently awarded B Corp status, a trend that we wish to continue long into the future.
We would like to thank James Cox and the team at BioTalent for joining us on our journey – we can't wait to see what the future has in store.
Would you like to be part of Trinnovo Group's future? We'd love to hear from you. Join us on the next stage of our journey in the world of people-first recruitment. Find out more here: Work for us.