Back to events
Don't get left behind in a world of multi-cloud magnificence!
As the tech space twists and turns, software engineers have access to more tools than ever before. The journey from on-premise to the cloud can be a tough one, but it's time to demystify it.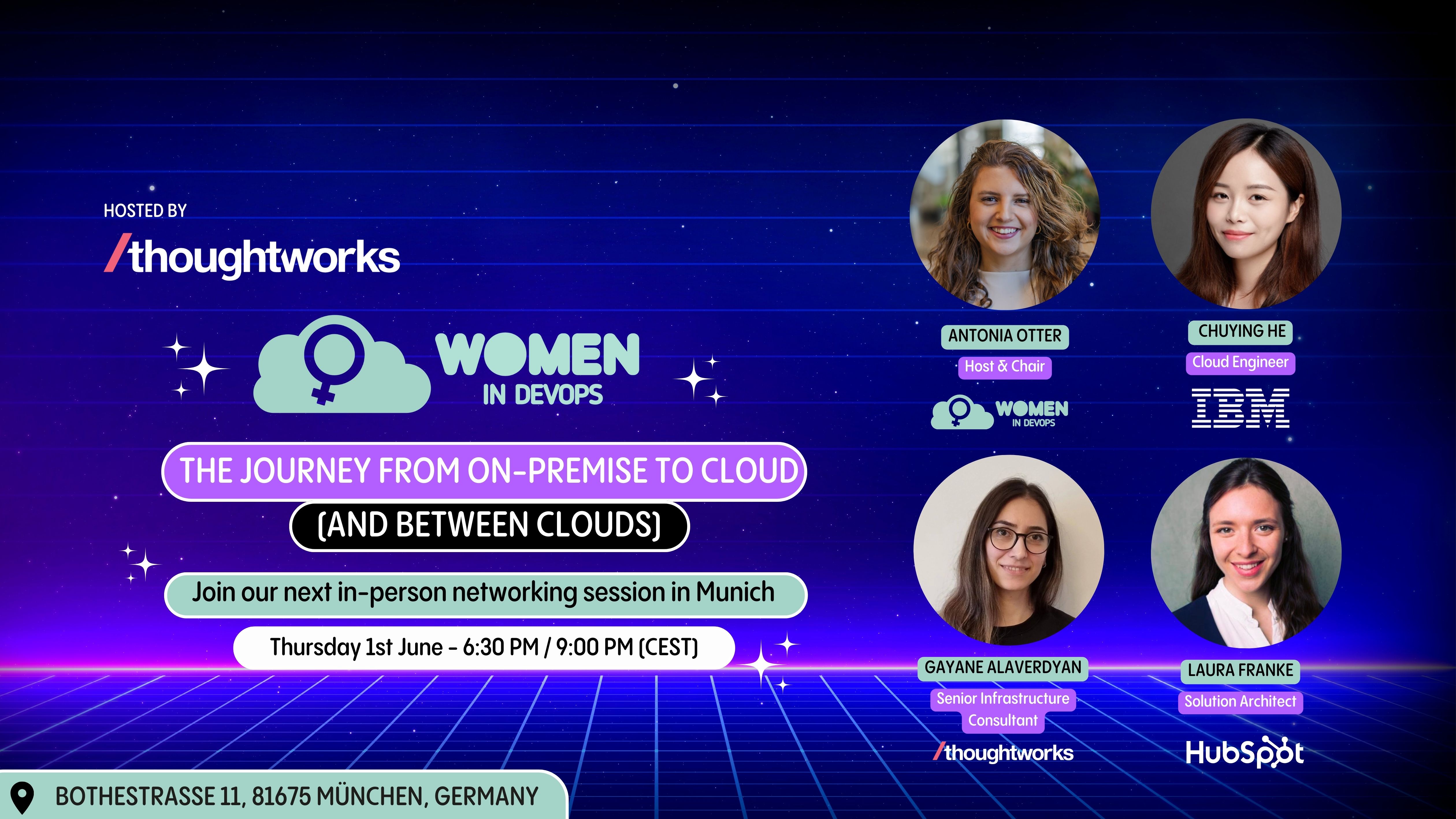 What's happening in the realms behind our applications? What does the journey from on-premise to the cloud look like? What does the hybrid approach look like when it works? Will we make it through a single discussion without mentioning ChatGPT? Join Women in DevOps in Munich on June 1st, where we'll be teaming up with the incredible ThoughtWorks to answer the biggest questions facing cloud engineering today.
​
With the help of our ever-insightful panellists, we'll be exploring:
Prem vs Cloud

The rise of serverless and no-code apps

AI's transformative impact on cloud computing

The ingredients for a smooth cloud migration

Development of used technology and services

The routes available to the modern engineer

Trends & Challenges in today's tech industry​
Our panel will include:
Antonia Otter - Host & Chair @ Women in DevOps

Gayane Alaverdyan - Senior Infrastructure Consultant @ ThoughtWorks

Chuying He - Cloud Engineer @ IBM
​
Gayane Alaverdyan
Gayane is a Thoughtworker who loves dealing with cloud technologies, platform engineering and infrastructure automation. She never gets tired of advising on and addressing the challenges of cloud migration. Gayane has spent some years in the telecom world taking care of mission-critical networks.
​
Chuying He
Chuying is a Cloud Engineer based in Munich, Germany, currently employed at IBM Client Engineering. With over a year and eight months of experience in this role, Chuying specializes in cloud computing, particularly in OpenShift and Kubernetes. She has contributed to diverse projects in the public sector across the DACH region. Prior to joining IBM, Chuying pursued her studies in Information Systems at the Technical University of Munich while gaining practical experience as a working student in various industries.
​
If you're searching for practical guidance, insights, and meaningful networking opportunities, come and get involved, we'd love to see you there!​
RSVP now.