Back to Blogs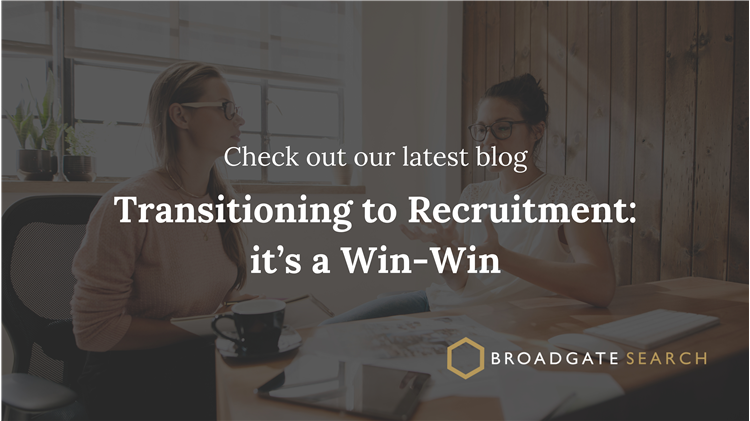 Transitioning to Recruitment: It's a Win-Win
Once upon a time, I was a trainee accountant - at one of the prestigious Big Four accountancy firms. Now, I'm a principal recruitment consultant.
It's a career move I've never regretted.
When I decided to make the change, I met a lot of resistance from accountancy colleagues, friends and family. I was told I was mad – waste of a good degree, move sideways, become a financial analyst, etc – not recruitment, OMG what are you doing?
Well, over three years later, I'm still in recruitment and I couldn't be happier.
Every day, I help clients build their businesses; I help candidates land their dream job. Every day, I meet new people, talk to new clients, and old. I match people with organisations. My job is exciting, it's people-centred, it's hard work and it's incredibly rewarding.
And, yes, there's no denying that you can earn a lot of money (we all know about the money side) but it's about a lot more than that – to succeed, you have to be passionate about the process and about what you want to achieve for people and clients.
And the skills themselves? Yes, I've got paper qualifications – and yes, I have an insider's accountancy knowledge and experience from two years inside a top firm. But recruitment demands specific, specialist skillsets – the soft skills so highly prized by our clients.
Organisation and time-management – successful multi-tasking

Negotiation – discussing and agreeing terms to satisfy client and candidate

Resilience – meeting challenges with a positive mindset

Adaptability – no two days are ever the same

Patience – processes can take a long time

Teamwork – collaboration is essential

Honesty – with clients, candidates and colleagues

Empathy – identifying, understanding candidate aspirations, client culture and business aims
Nowadays, (here at Broadgate for sure) recruitment also offers a defined career path – with progression, responsibility, international opportunities and training built-in (two promotions in two years for me). So, you are constantly learning and developing your skills which give you a sense of purpose and personal growth.
One quick story: A candidate of mine in 2020 was rejected twice during the worst of the pandemic for a role my gut told me they were perfect for. I persevered because the candidate really wanted the job and, finally, after five months, the client came back to me. They wanted to see them. They went down a storm at the interview as I'd predicted, were offered the role and months later are settled into the job, happy, as is the client. A lot of recruiters would have given up at the first rejection. It helps that I'm inside a collaborative culture where you can be honest to your managers and they will support you – especially when things don't go to plan!
So, my advice: trust your gut. Back yourself all the way. I guarantee a win-win.
Caragh Rafferty is a Principal Consultant at Broadgate Search (Ireland) specialising in accountancy, finance and internal audit. To reach out to Caragh to discuss job opportunities or client requirements please email caragh.rafferty@broadgatesearch.com or telephone 0035315136265
Broadgate Search is part of Trinnovo Group with a mission to build diversity, create inclusion and encourage workplace innovation. We are proud of our 2021 top 3-star, World-Class Accreditation for Employee Engagement from Best Companies. We're always looking for new talent to grow with us so if you're in a job where the path ahead just doesn't inspire, listen to your gut and get in touch and email cara@trinnovo.com or charlotte@trinnovo.com
​