Back to Blogs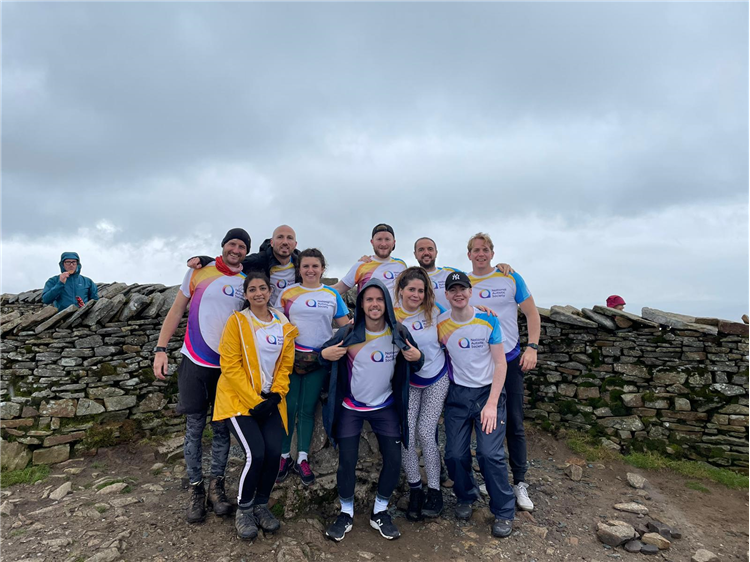 13 Hours, 26 Miles and 65,088 Steps Later: A Journey Through the Yorkshire Three Peaks
​On Friday 31st July, 10 hikers from Trinnovo Group took part in the famous Yorkshire Three Peaks challenge. Exciting, thrilling, arduous and exhausting could all be used to describe the considerable challenge that was to come. The initiative was married with an important purpose: to raise funds for the incredible National Autistic Society, which we have now raised over £3,300 for.
The journey began at the early hours of 6 AM, walking to Pen-y-Ghent, then Whernside and eventually Ingleborough. As we strode, strolled, and eventually hobbled to the finish line, we ensured that no hiker was left in the cold (well, metaphorically speaking) and rocketed to the top of each peak as an unbreakable ten-piece.
Throughout the 13 hours of walking, we sang, told stories, and stopped for a well-deserved eight-and-a-half-minute break, engulfing homemade cakes, chocolates and anything that could provide our sorry-selves with a quick energy boost. We were accompanied by a team of expert trekking enthusiasts who ensured we didn't seize up, tumble into a ditch, or find ourselves lost in a field full of cows and sheep. They also provided us with riveting tales of their expansive mountain-climbing careers, telling us stories of their climbs to Mount Everest Base Camp and Mount Kilimanjaro, as they walked with us as we glimpsed past the tranquil Ling Gill bridge, and the almighty Ribblehead Viaduct.
As we looked at the height and scale of Ingleborough mountain, each hiker prepared themselves for the final last push in this epic adventure. We slowly but surely made our way up towards the tabletop plateau, where we were able to feast our eyes on a glorious panoramic view, capturing the dales, lake district and the viaduct. While feeling enormously accomplished, we still had six miles of downhill walking to complete before we were home and dry.
We swooped our way past Horton-in-Ribblesdale station and made a final turn to our start point, where we were met with past and present expert team members who had accompanied us on parts of the journey. As we joyfully celebrated our achievement, one of the trekkers explained to us how it was 'rare' to work with a group who all supported one another and valued each team member, 'perhaps that is how you all managed to complete it so fantastically, it felt like a true team effort,' they said. We then climbed into the mini-bus, and while we departed from the car park, a unanimous, blissful thought beamed through everyone's minds: we just did something brilliant.
THE NATIONAL AUTISTIC SOCIETY IS THE UK'S LEADING CHARITY FOR AUTISTIC PEOPLE AND THEIR FAMILIES. WE TOOK ON THE CHALLENGE TO RAISE AWARENESS FOR THIS INCREDIBLE CHARITY, WHICH TRANSFORM LIVES AND CHANGE ATTITUDES TO MAKE A REAL DIFFERENCE IN AUTISTIC PEOPLE. YOU CAN STILL CONTRIBUTE TO OUR CAUSE – ANY DONATION WOULD BE WARMLY RECEIVED, AND YOU CAN DO SO HERE.