Back to Blogs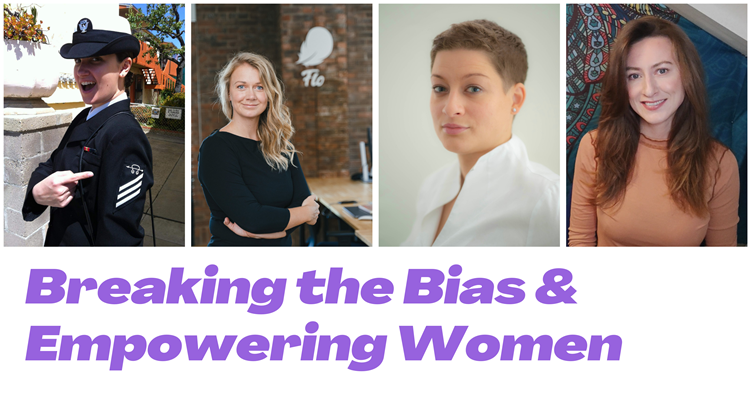 International Women's Day 2022 – Break the Bias and Empower Women
​At Broadgate, we believe in putting people first. Helping thought leaders grow in the world's most exciting and innovative industry. We are empowered by our mission to build diversity, create inclusion, and encourage workplace innovation. As recruiters, we have the ability to inspire change in the workplace as well as in society, driven by our vision to ensure diversity is the default and inclusion is the norm.
As we approach International Women's Day, we have been asking inspirational women in our community what empowers them, and how we can #breakthebias in business.
Katharina Dalka
Katharina Dalka is the CEO of StellaOne, strategy and investment advisory in tech, as well as the Chairwoman and Co-Founder of a Fintech called DYDON in Switzerland.
Malia Mason
Malia Mason works for RSM as a Manager of Governance Risk Strategy, specialising in private equity clients. She is also the President and Co-Founder of CyberDEI.
Ann Roberts
Ann Roberts is Chief People Officer at Flo Health, the world's most powerful female health app that serves the needs of 43+ million monthly active users across the world.
Leanne Lacey-Byrne
Leanne Lacey-Byrne is a Front-End Developer at Clover, mostly working with the Reactjs framework but there are vast opportunities to learn as many skills and technologies as she would like.
​
What empowers you a woman?
Ann: Empowerment is a big fluffy word that gets thrown around a lot nowadays, mostly for consumer marketing. To me, empowerment is having access to the insights you need and being able to act on them. So, everything starts with data. I track everything (mostly through great apps), from my financial health to my physical health, to my mental and female health. You know the saying - your body is a temple? That's BS, a temple is something fragile and sacred and mystical. Your mind and body are a machine, and you need to learn to operate and look after it, so it works with you. From eliminating the gender pay gap to the health industry catching up with female health that has been underserved, under-researched, and under-diagnosed part of medicine and science since the beginning of times - information leads to empowerment.
Malia: I love seeing other women succeed. I mentor a lot of folks, women especially, and I love hearing about their accomplishments, new roles, promotions, etc. Seeing them succeed encourages me to keep working hard on my own career.
Katharina: That is clearly my intellectual capacities alongside my sense for human relations. What is also very valuable to me is the support and positive feedback that I get from my environment – male and female – on my business activities.
Leanne: I am empowered by stepping into my true potential and not comparing myself to others. It's not always easy but it's something I work on all the time, there is a myriad of people out there, some who appear to be doing more, or some that appear to be doing better than you are, but they are not you! All you can do is your best, to be true to yourself and kind to yourself. If you don't encourage yourself, who will? If you don't challenge yourself, who will! There are so many opportunities in life for those that dare to try. I have the belief in love, "there is someone out there for everyone" and it applies to just about everything.
​
What strategies can businesses do to empower women and break biases?
Malia: While I am proud that I've made it to a leadership role in tech and made it into my dream school (UCLA) for grad school, I'm most proud of my advocacy and non-profit work. Since leaving the Navy, I've mentored thousands of veterans, military spouses, women, and underrepresented folks seeking careers in tech. As of this date, I've helped nearly 60 people get roles in cybersecurity. It makes my day when I see people that I've mentored post their updates on LinkedIn. One veteran reached out just recently and told me that he had 3 successful jobs since I first mentored him 6 years ago. I absolutely love that.
Ann: So, what can businesses do to empower women and break biases? Build products and services that eliminate the information asymmetry between genders. Give your candidates the comparative data that enables them to vouch for themselves. Measure salary increases, promotions, and L&D investment across the gender spectrum, because data doesn't lie, and data creates awareness. And sometimes, this in itself is enough to create accountability.
Katharina: First and foremost, it's the support between women. I have never experienced the catfight scenario, and I don't believe in it. It's not because women compete that it becomes a catfight. I would wish for more male business leaders and CEOs to be outspoken about the topic and actively support women by valuing their leadership style and trusting them to fulfill powerful positions.
Leanne: At Clover we believe that saying women should be in Tech is all well and good, but unless you take action, it's not enough. At Clover, we showcase our talent, with female talent being a part of this. Anyone who would like to get involved in presentations in local universities, to inspire the upcoming generation is encouraged to do so and given the time during work to prepare and present. The ladies at Clover have regular meetings, which were spearheaded by Fergal [Site Lead at Clover] and some of the ladies at Clover. After the initial meeting with us, Fergal stepped back and left us to decide what we would like to do, how do we want to encourage young women and men to get into the fantastic field of tech.
​
What empowers you? If you want to find out more about the inspirational leaders we will be launching inspirational leaders throughout the month of March – so watch this space. We're interested in learning more about what would help women in workplaces break the bias. Check us out on LinkedIn to find out more about how we are making an impact in the recruitment industry here.
#breakthebias #IWD2022 #internationalwomensday