Back to Blogs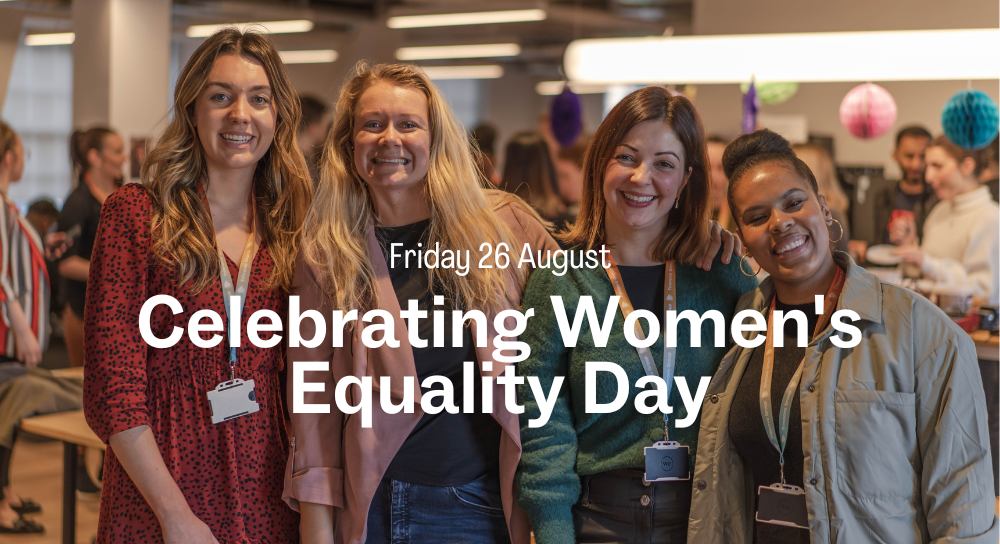 Celebrating Women's Equality Day
August 26th is finally here – it's Women's Equality Day, and this year it's arrived at an incredibly significant moment in world history.
Women's Equality Day commemorates the 19th amendment to the U.S. constitution, a passage that ultimately granted voting rights to women in 1920, serving as the critical victory in the battle for women's suffrage.
First celebrated in 1973, Women's Equality Day has since become an occasion for the world to reflect on the achievements and journeys of those who once fought for a better tomorrow, and those who continue that journey today, no matter where they are.
This day not only represents the immense scope of the progress made towards achieving gender equality in modern society, but it acts as a reminder of the barriers that continue to stand in the way.
Now is the time to show solidarity, to empower one another, and to recognise the stunning achievements made by women all over the world.
The Drive for Gender Equality
The ever-present gender pay gap has fallen under extensive media scrutiny in recent years, leading to positive change in many high-profile industries.
For example, in February 2022, a momentous deal was passed in the U.S., resulting in equal pay for the women's and men's national soccer teams.
A shift in societal attitudes are another leading driver behind the push for gender equality – according to a report from Deloitte, Gen Z will soon be the most populous and diverse generation of people on the planet.
This new generation comes with a fresh perspective, and it's one that advocates for the diversification of the modern workplace.
As workplaces evolve and public opinion shifts, brands will need to include DEI (diversity, equity, and inclusion) to retain their competitive edge. As well as being morally compelling, research has shown that diversity directly improves business performance.
Any vigilant recruitment agency should know that a diversity-led hiring process enables workplace innovation, inspires collaboration, and translates into tangible business success.
How Trinnovo Group Recognises and Supports Women
At Trinnovo Group, inclusion is the norm, never the exception. We have the vision, the passion, and the means to make a positive impact on the future of the working world, and we start by putting people first.
Inspiring thought Leadership
The best leaders are made, not born. It's the responsibility of businesses and individuals everywhere to create a safe and inclusive working environment, one that inspires and supports more women to step into leadership roles.
By encouraging thought leadership, we can empower, connect, and support women everywhere, and we do this in plenty of neat ways:
· The gender pay gap is real, it's abhorrent, and we're fighting it every day with the help of our vast community and diversity networks.
· Our Women in DevOps initiative was founded in 2017, and since then it's helped connect thousands of women on a global stage. Whether it's finding inspiration in the words of a barrier-breaking CEO, forming lifelong relationships with likeminded individuals, or you want to be part of a movement that makes a difference, don't hesitate to reach out to the team today – we'd love to have you involved.
· Events are our jam. Panels overflowing with talent, good people, good times, safe spaces, and networking opportunities galore – we know how to host events, and everyone is welcome. Let's celebrate diversity and inclusion together.
· Podcasts and Blogs spread the good word. We stay active in the community to ensure everyone feels engaged and supported. Regular blog posts and podcasts help us do just that. Check a few of them out here.
Gender Employee Engagement Groups
Our Gender Employee Engagement group was established to bridge gender gaps in the workplace, promote equity, and enrich our communities.
These engagement groups can return that all-important sense of agency, autonomy and self-motivation to the workplace, allowing us to bolster our diversity-focused mission both internally and externally.
By actively working together to build networks and communities, we can raise awareness and create a safer, more accessible working world for women.
What Can You Do to Help?
Post about it! Achievements and milestones need celebrating, so why not boost their visibility by making the most of social media? There's always room to get involved and start making a positive difference. Taking an active approach to raising awareness is a good place to start.
Saving important dates, just like Women's Equality Day, helps raise awareness on a much larger scale. No step forward is too small.
Everyone has a part to play in the road towards a fairer future. From individuals to global organisations, meaningful change can (and needs to) happen in every context.
It can be tough to speak out when you see discriminatory behaviour, especially if you're in an environment that constantly enables it, or you feel unsafe to use your voice.
Calling out hateful and discriminatory behaviour doesn't necessarily warrant a confrontation of any kind, nor does it mean you should feel pressured into reporting it at the time, particularly if your safety is in question.
You're not alone, even when it seems like it in the heat of the moment. Allies and resources are out there.
Learning more about your rights, sharing your knowledge, your experiences, and your findings can enrich and improve wider society.
What Can Businesses Do?
All businesses, no matter the industry they're operating in, need to create a comfortable space for every employee.
Creating a culture of acceptance and diversity (one that supports everyone) starts at the recruitment stage. Failing to hire with a dependable diversity metric in place means failing to build bridges to a brighter, more sustainable future.
Upskilling employees, driving staff engagement through focus groups, connecting with charities, and celebrating important dates in the workplace can all raise awareness and inspire change.
Women's Equality Day is a time to reflect on how far we've come, and the globally impactful achievements that contribute towards a brighter future.
From women's suffrage and equal pay, right up to the recent passing of anti-discrimination laws and the introduction of gender pay gap reporting, progress is possible and it's happening all around us.
​