Back to Blogs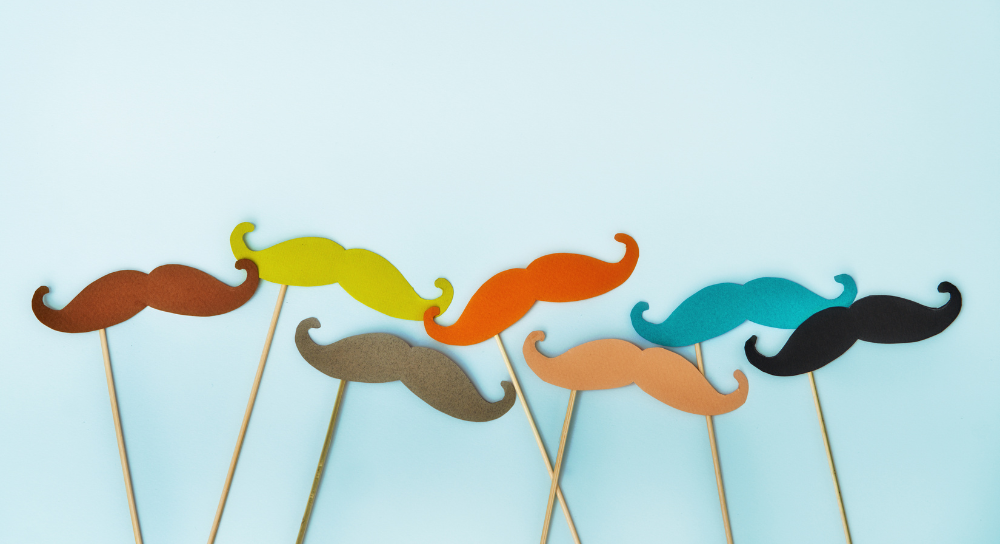 Beyond the Moustache: What's the True meaning of Movember?
The moustachioed men of Movember represent so much more than their furry upper lip might initially suggest. It's international men's day, and there's plenty to talk about.
There's no denying that the mo' is a conversation starter, but what's that conversation about? For many, it's more than a moustache, it's a global movement that's so far raised over £801 million for men's health projects in the 19 years since its inception.
For others, the connection between the moustache and health concerns appears to be absent, and as a result, the point of the conversation is lost in the mix. A study in the National Journal of Medicine discovered that the Movember campaign is only weakly associated with prostate and testicular cancers, noting that more should be done to bridge the gap.
The function is impactful regardless of the form, and as for the form – big ones, small ones, rough ones, smooth ones, handlebars, horseshoes, patchy ones, curly ones, thick ones, thin ones, pink ones, blue ones, you name it, every moustache can make a difference.
Let's Talk it Out
Be it through archaic gender roles, machismo, toxic masculinity, a lack of communicative tools or the dreadful 'man up' philosophy, many men find talking about health issues tough, if not downright impossible.
Movember is a bristly reminder of the very same issues that go unaddressed every day. It's an invitation to a conversation about well-being, unity, understanding, acceptance, and the normalisation of talking about health issues.
In many ways, the Movember moustache is the ideal representation of this missing dialogue, a silent reminder that bridges the gap.
Boosting awareness means taking an active approach to combatting the often-preventable health issues (both mentally and physically speaking) that haunt the population. Around 75% of all deaths by suicide in the UK are men – a testament to the need for greater mental health support.
A Symbol for Change
Movember was established to focus on three main areas: Prostate cancer, testicular cancer, and mental health, but there's a wider point to be made about changing the paradigm of the male health conversation, a point that the mo' makes effectively, hence the tagline: 'Changing the face of men's health.'
You don't need a mo' to support men's health either – millions of people get involved every year without the need for their own face lace. Whether it's hosting fundraising events, writing a blog, or reaching out to their friends and loved ones, there's always something to be done.
If you're looking for ways to support men's health and actively encourage the conversation, why not:
Ask your mate how he's feeling – don't settle for an 'I'm okay' if you can sense that something's wrong.

Make a social post and direct people to resources – often, men want to open up about health, they just don't have the space or the tools to do so. Link some resources like C.A.L.M. or Movember's site, or direct your followers to a resource that helped you in your time of need. It doesn't have to be a study, even if it's just a song that you preface, it could help open the conversation.

Showcase your role models – if you've got a positive male role model in your own life, why not show some appreciation? They might be able to support others too, or at the least, let them know that they're not alone.

Organise an event – events can drive connectivity and engage people in many different ways, even if it's just a light-hearted affair on the face of it, like a totally non-lairy pub quiz for example.

Get Educated – The more you know, the better equipped you can become when it comes to making a difference. The NHS website, Strongmen, Mind, and Movember all have fantastic resources and literature on the topic of men's health, so it's worth having a read if you get a chance.
Tri-mo-vo
This Movember, members of Trinnovo Group have been doing some growing of their own. We're a passionate bunch that takes their mission to build diversity, create inclusion and encourage workplace innovation very seriously, and that means advocating for positively impactful causes wherever we can. If raising money requires an itchy top lip for 30 days, then so be it.
We always put our people first, so we make sure we've created the working environment that gives them the space they need to thrive, acting as a platform for their impassioned voices, and the inclusive setting in which they can truly belong.
If you feel like contributing towards a better working world for everyone in an environment where inclusion is the norm, never them exception, then reach out to us today, we'd love to get to know you better.
Happy international men's day!
​