Back to Blogs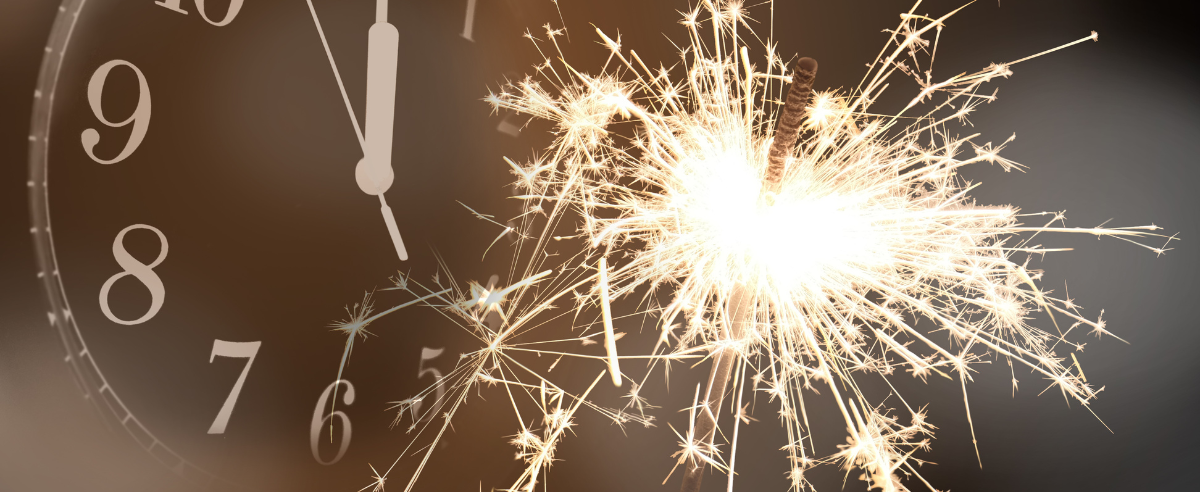 Why New Year's Resolutions Fail (And How to Succeed with Yours)
The infamous New Year's resolution – it's a tradition that, ironically, often sees meaningful self-development take a backseat.
​Why do so many of us fail at sticking to our midnight promise? Is the whole thing doomed from the start? In truth, keeping to a resolution is far from impossible. Perhaps it's time for a reframing.
​In business, strategy demands precision, timelines, a purpose, and most importantly, a plan of action that results in a sustainable outcome. The same could be said of a New Year's resolution.
​Here's why they tend to fail before they get off the ground, and how you can make sure it doesn't happen to you.
​A Lack of Definition
​Vowing to do more exercise is just too broad. This lack of definition can result in a directionless meander through the new year, not really taking any measurable action to achieve the desired outcome.
Focussing instead on a specific target can help you track progress more efficiently. For example, if you want to do more exercise, why not narrow it down to a specific form of exercise?​
How to Succeed: Be precise and set milestones you can reach throughout the year, e.g., 'I want to reach a certain level of proficiency in a new skill by the end of the month.' Setting yourself sub-resolutions under the main objective can help too – say you wanted to be a more engaging leader at work, why not start by setting yourself a goal to celebrate your team's wins at least once a week?
A Missing Purpose
If there's no reasoning behind the resolution, you might find it hard to motivate yourself. For example, say you wanted to quit doomscrolling – without identifying the reason or the benefits of quitting, you lack a real excuse to make the change in the first place, especially when something like doomscrolling is so addictive. ​
Purpose-driven decisions are a way to enact real change in both the professional and the personal spheres. It's important to remember that the pull of change must outweigh the consequences of doing nothing.
How to Succeed: Ask yourself why you've made the resolution to begin with. You can remind yourself of this if things start to get tough. If you're working to achieve an outcome, it's worth visualising what that outcome looks like, and what it could mean for your future.
Rushing into It
After the honeymoon period of the new year wears off, it's easy to forget about your resolution and fall into the same old routine. ​It's important to remember that meaningful results usually take time to show up, so rushing into it (and subsequently, backing out of it) won't do you any favours.
It's more of a cross-country race than an out-and-out sprint to the finish line, and besides, you have a full year to reach the endgame.
​How to Succeed: Take a long-term approach and give yourself more time to reach milestones. Just like any big project, taking on the whole thing at once can be overwhelming, and it doesn't tend to yield the best results.
​Why Does This Matter for Your Business?
​Change is often tough by nature, it's why it's so hard to implement it on a larger scale, especially if you're trying to break the mould of a routine you've known for so long.
​Real organisational change is a lasting change that delivers results, and that's exactly what a resolution should be. Organisational change can be particularly difficult to implement, be it through fear of the unfamiliar, an unwillingness to adapt, a lack of internal support or change fatigue.
​For a business to succeed in an ever-evolving climate, constant change is a necessity. Your competition will be evolving, so you'll need to do the same.
​Here at Equiris, we have a wealth of experience in change management, and we know that growth of any kind can be hard, no matter where you're starting from. By focusing on your people and enhancing their experience of change, we can make your transformation sustainable.
​2023 represents a fresh start, a perfect time to set off in the right direction. If you could do with the help of an expert business consultancy, reach out to the team today, we'd love to be a part of your journey.