Back to Blogs
Community Spotlight: Meet Prakriti Karthauser
At Women in DevOps,
​we strive to promote gender equity as we encourage, celebrate, and empower like-minded tech professionals around the world.

We are shining a light on our community member, Prakriti Karthauser, who currently works at Vodaphone as a Senior Platform Engineering Manager.
​
Where did you study and what got you into technology?
I attended the University of Maryland, College Park in the US, where I studied English literature and modern drama. At that time, I was convinced that I wanted to pursue a career as a stage manager. That's what I thought I wanted to do!
It was the year 1996, and although the dot-com boom hadn't quite taken off, it was gaining momentum. I was in a friendship group of techies, and a job came along at a startup. At the time, I had thought to myself: what am I going to do with an English Literature degree? I don't want to teach. I'm not a writer. So, I went for the job.
This marked my first job, which I obtained during my third year of university. When they offered me the position, with a salary of $25,000 a year, I was thrilled! Consequently, I made the decision to drop out of school and embark on a career in technology. I'm totally self-taught!
I genuinely enjoyed the experience. I have always been passionate about giving my best effort at work. There's no point in feeling mediocre about anything. I particularly loved the problem-solving aspects of my job!
​
What have been your biggest career and personal achievements?
In 2006, I was sent to Australia by the company I was working for at the time. I was assigned as a network engineer for a four-month contract. I succeeded so remarkably in that role that the company was able to establish an office in Sydney based on the work I had done. It was a remarkable achievement, and to top it off, I accomplished all of this while I was pregnant!
On a more personal note, after the birth of my second child, I took a six-year-long maternity leave. Returning to the workplace wasn't easy. Initially, I faced several disastrous interviews as I struggled to recall the intricate details of network engineering after a six-year gap. To overcome this, I decided to dedicate myself to studying. I shut myself in my bedroom for four months, treating it like a regular workday, and focused on relearning everything I had forgotten while catching up on the latest developments. This intensive effort paid off, and I managed to secure a new job!
Through this experience, I learned that failure is not an option. Yes, it can be a long and challenging journey with its ups and downs, but with perseverance, you eventually reach your goals. You have to keep pushing forward because giving up is simply not an option.
​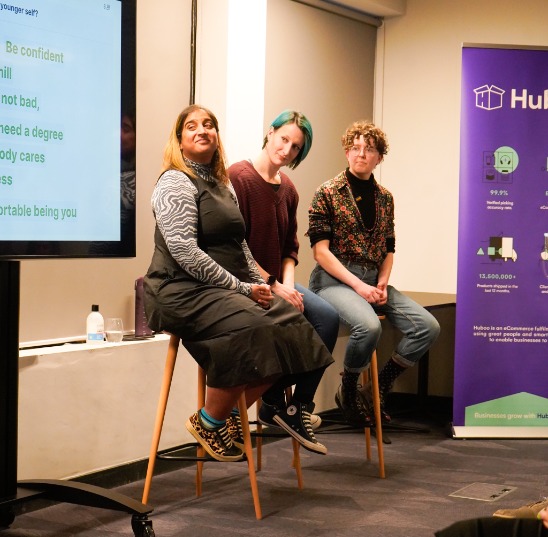 Tell us about your current place of work and role.
I currently work for Vodafone as a senior platform engineering manager. In my role, I oversee a team of about 30 individuals, including Cloud Infrastructure Engineers, DevOps specialists, and some SRE personnel. We handle various aspects of Vodafone's cloud footprint, working on a wide range of tasks.
What advice would you give to your younger self?
Don't be embarrassed to ask for what you want and seek help when needed. Don't conform to societal expectations or what others think you should do. Trust your instincts and pursue the path that feels right to you.
​
​