Back to Blogs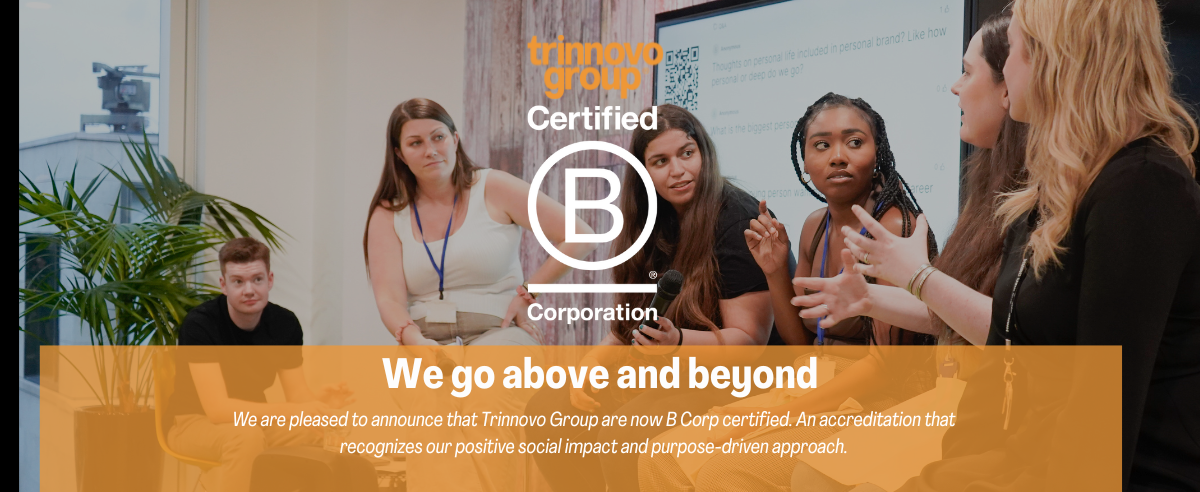 ​Since we launched Trinnovo Group in 2020, incorporating Trust in SODA, Broadgate Search & BioTalent, we've been guided by a clear mission: to build diversity, create inclusion, and encourage workplace innovation. We've always believed in using our platform as a force for good, and it's helped us form some incredible connections on our journey so far.
We're mid-way through 2023, and we're proud to announce a brand-new set of connections – After a rigorous two-and-half-year-long application process, Trinnovo Group is finally a certified B Corp. We're proud to stand alongside a global community of businesses dedicated to the highest standards of transparency, accountability, and social and environmental performance.
Trinnovo Group's ecosystem now has the chance to evolve, discover, and flourish under an additional framework, a guiding set of standards codified by B Lab (The non-profit behind the B Corp movement), upheld by those passionate about balancing profit and purpose.
The Business Impact
Public awareness for B Corp is growing alongside a broader cultural transformation – people are more mindful of ESG (Environmental, Social, Governance) issues than ever before, and they're conscious of the role corporations play in shaping the future.
Galvanised by the toll of systemic inequality, climate crises, and the cost-of-living burden, demand for greater corporate transparency is rising. Delivering meaningful value depends on it.
We know that piloting a purpose-driven organisation means scrutinising yourself under the microscope – the B Corp certification is more than a shiny award, it's a pledge to continue meaningful self-scrutiny whilst striving for betterment at every cornerstone of the business.
Successful B Corp applicants enter into a legally binding agreement that requires them to consider the impact of their decisions on their stakeholders, essentially guiding primary focus away from shareholder centricity.
Our methodology is, and always will be, stakeholder-driven; it's largely why we were drawn to B Lab's outlook on business in the first place. B Lab is working to transform the global economy to benefit all people, communities, and the planet, a statement that resonated with the culture we've created at Trinnovo Group.
Where to Next?
We excelled in the Workers, Communities, and Customers, assessment criteria, but we know being a B Corp is more than just patting your own back. A commitment to B Corp is a commitment to growth, progression, improvement and, if necessary, transformation. We need to improve in the Environmental and Governance sections, and we've established a new employee engagement group to help us do it. This group will collaborate with employees of all levels across the group, leveraging their diverse perspectives and skillsets to develop a Green promise and enhance our sustainability practices. As the standards become more rigorous, it will challenge and inspire us to evolve and innovate.
We would like to thank all our incredible teams, candidates, clients, and communities that joined us on our B Corp journey, together, we can continue reshaping success and make a positive impact on the communities we serve.
​