Back to Blogs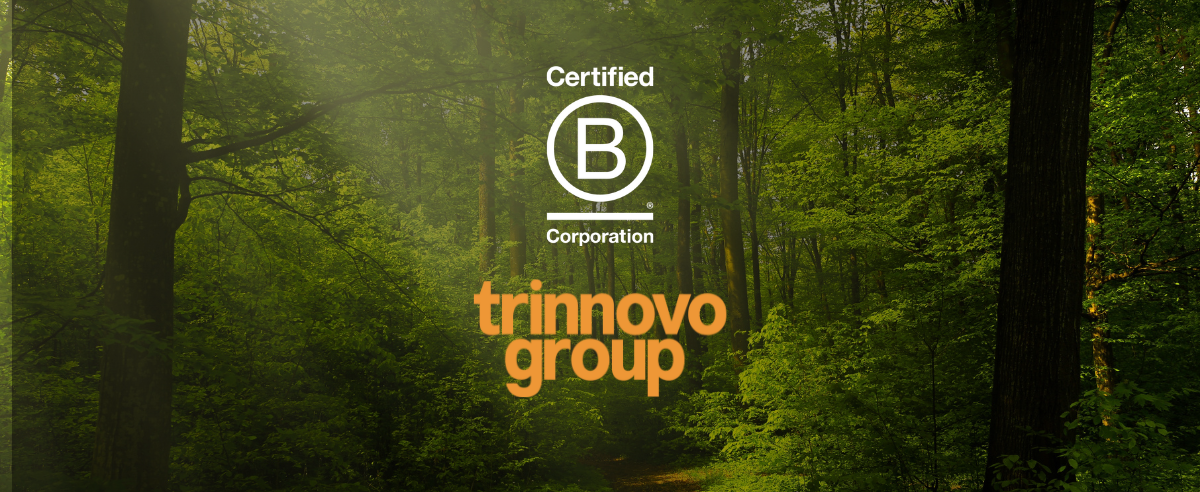 Press Release: Trinnovo Group Awarded B Corp Status
​Trinnovo Group Awarded B-Corp Status with a Score of 115.2, Placing Among Top 7% of Recruiters in the United Kingdom
[17/07/2023, London] Trinnovo Group, a market-leading recruitment and advisory specialist, has been awarded B-Corp status, demonstrating an unwavering dedication to the gold standard of social and environmental performance, transparency, and accountability.
With a score of 115.2, Trinnovo Group rank among the top 7% of recruiters who hold the certification in the United Kingdom.
Trinnovo Group have been awarded the certification by B Lab, the non-profit behind the growing B Corp movement, as having met rigorous social and environmental standards which represent its commitment to goals outside of shareholder profit.
Applicants are assessed on their operational output across five factors: Governance, Workers, Community, Customers, and the Environment.
Trinnovo Group are proud to stand alongside a global network of organisations committed to redefining success in a brighter business future. Currently, there are over 1400 B Corps in the UK and 6900 worldwide, and that number is set to grow as companies everywhere shift their focus to a stakeholder-oriented value system.
For Trinnovo Group, the mission is clear – to build diversity, create inclusion, and encourage workplace innovation, a mission that harmonises with the B-Corp value system. Looking to the future, CEO Ashley Lawrence said:
'We are delighted to join the B Corp movement, it's a fantastic certification which aligns with our mission and holds us accountable to our impact and the upholding of our values.
The impact assessment for the certification acts as a self-measuring tool. That's one of the ways I see Trinnovo Group finding improvements for best practices, and we are encouraged to keep improving as we remain accountable to the world, our customers, and our employees. As the standards become more rigorous, it will challenge and inspire us to evolve and innovate.'
While Trinnovo Group has transformed and grown throughout its journey, its values and mission have remained unchanged. The B-Corp certification is both a cardinal milestone in the Group's history and a reminder of the need for continuous targeted improvement.
Lucy Neal, Associate Marketing Director, said:
'We were confident in our impact as positive disrupters in the recruitment space – seeking the B Corp accreditation was the natural next step as it aligned with our values, enabling us to fortify our dedication to the societies and communities we serve. We were eager to capture and amplify our commitment to our mission, and the B Corp process represented the ideal way to do it. B Corp not only validates our commitment to putting people and the planet before profit, but it inspires us to consistently strive for improvement.
It took us 2.5 years, and whilst the application was definitely rigorous, we were able to become B Corp certified on our first attempt. We are delighted to have scored 115.2 out of 200, having excelled in delivering impact in areas such as:
Our community-driven approach and thought leadership commitment to amplifying the voices of underrepresented groups

Our four unique community groups: Race in STEM, Women in DevOps, Ex-Military Careers, and Pride in Tech

Our commitment to having over 100,000 attendees at our events, and increasing confidence, inspiration, and knowledge in addition to growing our communities by 30% year-on-year

Transparency on our impact targets

DEIB strategy and commitment

Our commitment to DEIB at every stage of the recruitment cycle

Helping our clients reach their diversity goals

Our diverse board representation

Our diversity network and charitable and community partners

Our people and culture

Our people-friendly policies and perks

We offer employee ownership options

We're a living wage employer with a transparent pay banding framework

We promote health, well-being, and happiness – Wellness Action Plans, mental health first aider and discounted gym memberships

Hiring through our academy and promoting our people

Volunteering and mentoring commitment

Our commitment to providing 1,000+ mentoring hours and positively impacting 100,000 people through our partnerships and charities
We will be working vigorously during our 3-year cycle to improve our score in environment and governance to ensure we continue to orchestrate responsible outcomes for our stakeholders. Becoming B Corp certified enables us to be the change we wish to see in a global movement that is fundamental for future generations. We are enabling a mindset shift in helping other organisations adopt the B Corp mentality. Creating a more responsible, green and inclusive future.'
Chris Turner, Executive Director of B Lab UK, says:
'We are delighted to welcome Trinnovo Group to the B Corp community. This is a movement of companies who are committed to changing how business operates and believe business really can be a force for good. We know that Trinnovo Group are going to be a fantastic addition to the community and will continue driving the conversation forward.
We are pleased to have B Corps of all shapes and sizes as part of our community – from startups to multinationals and across many different industries. Business is a powerful force and B Corps demonstrate that you can do good in any sector. Welcoming Trinnovo Group is an exciting moment because they have an opportunity to lead the way within the recruitment industry. We and the rest of the B Corp community are really pleased to support Trinnovo Group in paving the way for a new way of doing things.
Being able to welcome Trinnovo Group to the B Corp community is hugely exciting. Their commitment to doing business differently will be an inspiration to others and really help spread the idea that we can redefine success in business to be as much about people and planet as it is about profit.'
​
​
​