Back to Brands
Your Partner for Growth and Transformation.
Growth is hard, no matter your starting point. Whether you're growing in size, growing in maturity, or growing the way you think and interact with the world, we're here to provide sustainable business solutions that deliver immediate impact.
​Our tailor-made solutions can bridge the gap between strategy and execution, future-proof your organisation, and unlock and enhance your talent. Check out our core specialisms below to learn more about how Trinnovo Consulting can help you make a difference.
​
​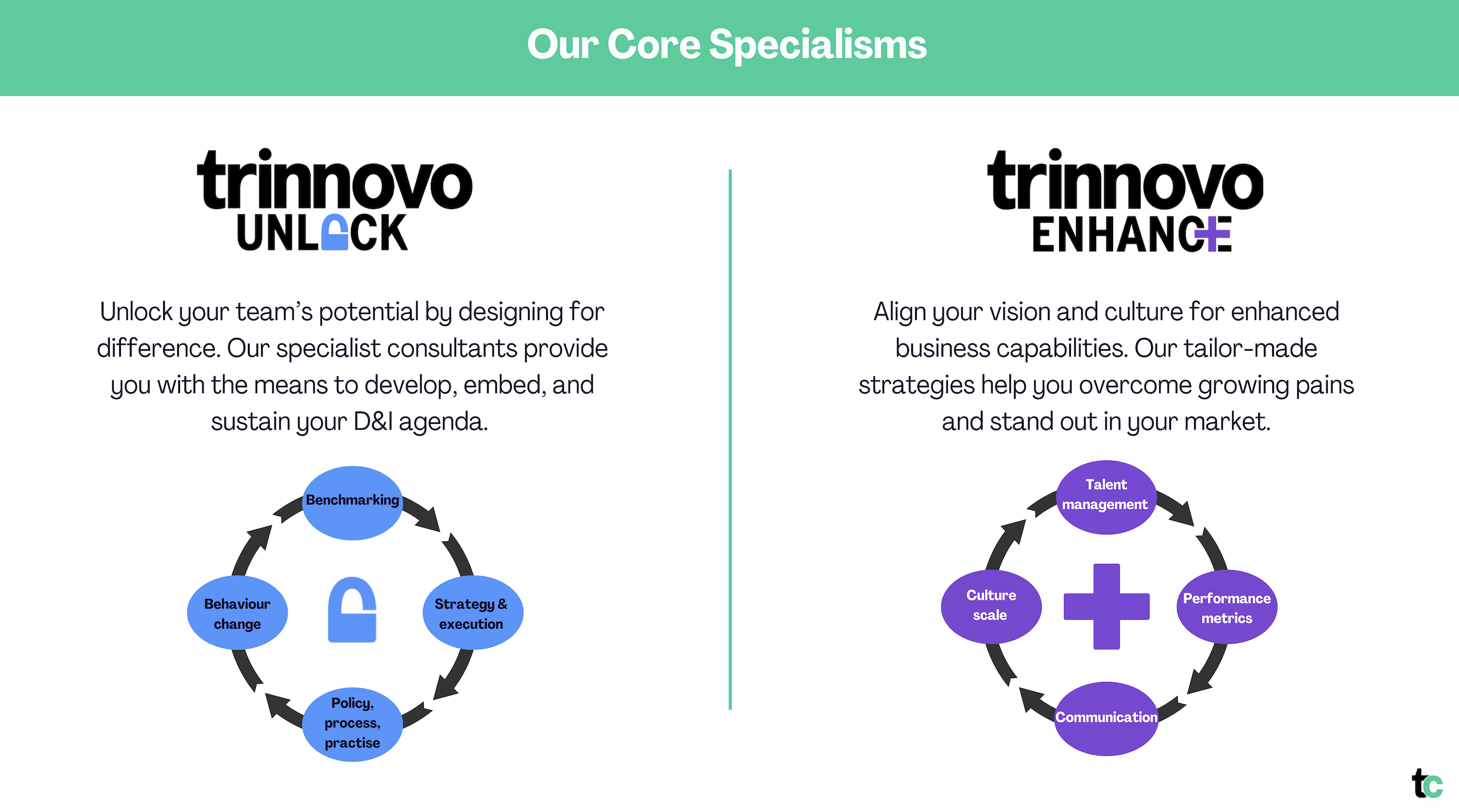 ​
​
Unlock a new way to engage with Trinnovo Consulting via our podcast series:
​
Fill out the form below to speak with one of our specialist consultants.
​
​Tower needed to provide interview training to their management team to support planned headcount growth.​Equiris delivered an interactive training programme designed to create lasting behavioural change. The programme covered; Diversity, Equity, Inclusion and Belonging, unconscious bias, discrimination, competency interviewing, communicating with impact, pitching tower and fair scoring sustems.​'The Equiris team were fantastic in their delivery of assessing talent. Everyone who attended has nothing but praise for the programme and better still, they are still talking about it and learning from it. Abi and Cara were full of energy, engaging and supportive. They took the time to really understand our needs and the individual needs of those in the room. We couldn't recommend Equiris enough.' - Claire O'Leary, HR Manager at Tower Cold Chain.

Avado believe in the power of progress through learning, and since launching their free ground-breaking digital skills programme, FastFutures, back in 2020, they've successfully delivered training to over 5000 young people. Designed to help people from underrepresented backgrounds learn key skills and find meaningful employment, FastFutures is equipped to drive diversity and inclusion in businesses that struggle to hire talent from a wide range of backgrounds.​ChallengeAfter tapping into a diverse talent pool, Avado needed to create an inclusive interview process that was capable of interviewing thousands of applicants over a 4-week period. In order to mitigate bias, avoid positive discrimination, and make the process more accessible for everyone, Avado turned to Equiris Consulting for support.​SolutionEquiris delivered bespoke training on diversity, equity, inclusion, and competency interviewing, while implementing immersive learning techniques to challenge unconscious and implicit biases. The potential for bias was further reduced by creating a process that used blind CVs, telephone interviews, and a fair, objective scoring system. A structured, competency-based interview was created, and candidates were encouraged to use examples from any area of their life to give everyone the same opportunity to succeed irrelevant of their background.Neutral language was used when creating the interview guides to remove any hidden biases within the language. There was also a focus on inclusion, and technology was implemented to allow candidates to request for any accommodations needed to attend the interview, enabling Avado to support a number of candidates who were either neurodivergent or identified as having a disability or learning difficulty.​MetricsOf the 1000 learners that Avado offered a place on the programme to, the demographic breakdown was:· 61% female· 58% from minority ethnic backgrounds· 55% from low-socio-economic backgrounds· 10% from the LGBTQIA+ community· 7% who identified as having a disability or a learning difficulty​All of the above were within 5% of the applications, which meant that the process achieved Avado's aims of removing bias, both conscious and unconscious, from the hiring process.​TestimonialCara and her team were fantastic in their delivery of this project. The team provided great advice and were easy to work with, professional and prompt. Great data was shared with us, and there were regular meetings to provide project updates which meant that we had a good understanding of where the project was at. The team understood our needs well and delivered a successful project to a really high standard, it was a pleasure to work with Cara's team and I'd welcome the opportunity to work together again. – Timothy Wilson, Founding Member of FastFutures and former Head of Talent Attraction at Avado.

Virgin Money's Culture, Capability and Organisational Development Consultants were leading an initiative to develop the talent assessment and interviewing mindset of their People Leader's team. To effectively prepare for this initiative, Virgin Money assigned SODA the task of delivering a bespoke, unconscious bias workshop. By providing this training, we aimed to develop the mindsets and attitudes of their People Leaders, allowing them to gain a detailed understanding of unconscious bias and being able to assess biases objectively. ​​Solution We delivered a one-hour, interactive webinar on Objective Assessment & Unconscious Bias to 14 attendees. This webinar provided an insight into the meaning behind unconscious biases, as well as raised awareness and understanding of how this could come to light in an interview environment. We also touched on managing unconscious bias, focusing on methodical ways of thinking, as well as applying this in the interview setting, and considering reasonable adjustments.  Results The webinar helped raise awareness of implicit biases, as well as impact assessors' behaviors and support healthier hiring decisions. We had a largely positive response from our audience, particularly highlighting the quality of the bespoke content that was presented. 

​Objectives We became an exclusive recruitment partner for the Fast Futures programme. 500,000 plus young people are due to leave education this year. During an international pandemic, it is highly likely to hurt their job prospects, particularly with the cancellations of internships and apprenticeship programmes. At the same time, the UK is also experiencing a shortage of digital and tech skills that businesses need to compete on the international stage. The programme will equip young learners with the business skills UK organisations need to get them job ready and help to limit the impact of COVID-19 on the UK economy. The initiative is a national, joint project between Avado and leading global businesses, providing essential real-world skills to education leavers aged 18-22. Seeking diverse and equal representation in the candidate application process. 
CASE STUDIES FROM OUR CLIENTS
​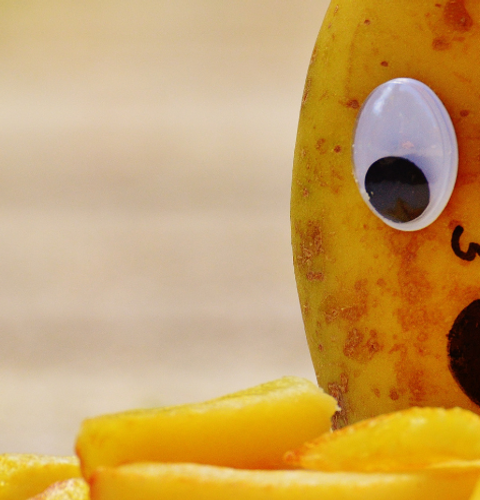 Laughter is a stress remedy, a corporate misery relief that enlivens company culture – why isn't there more of it in the workplace? Typically, work...
Read more